INDOT's phased materials e-Ticketing rollout is already showing the advantages of going paperless.
By Mary Lou Jay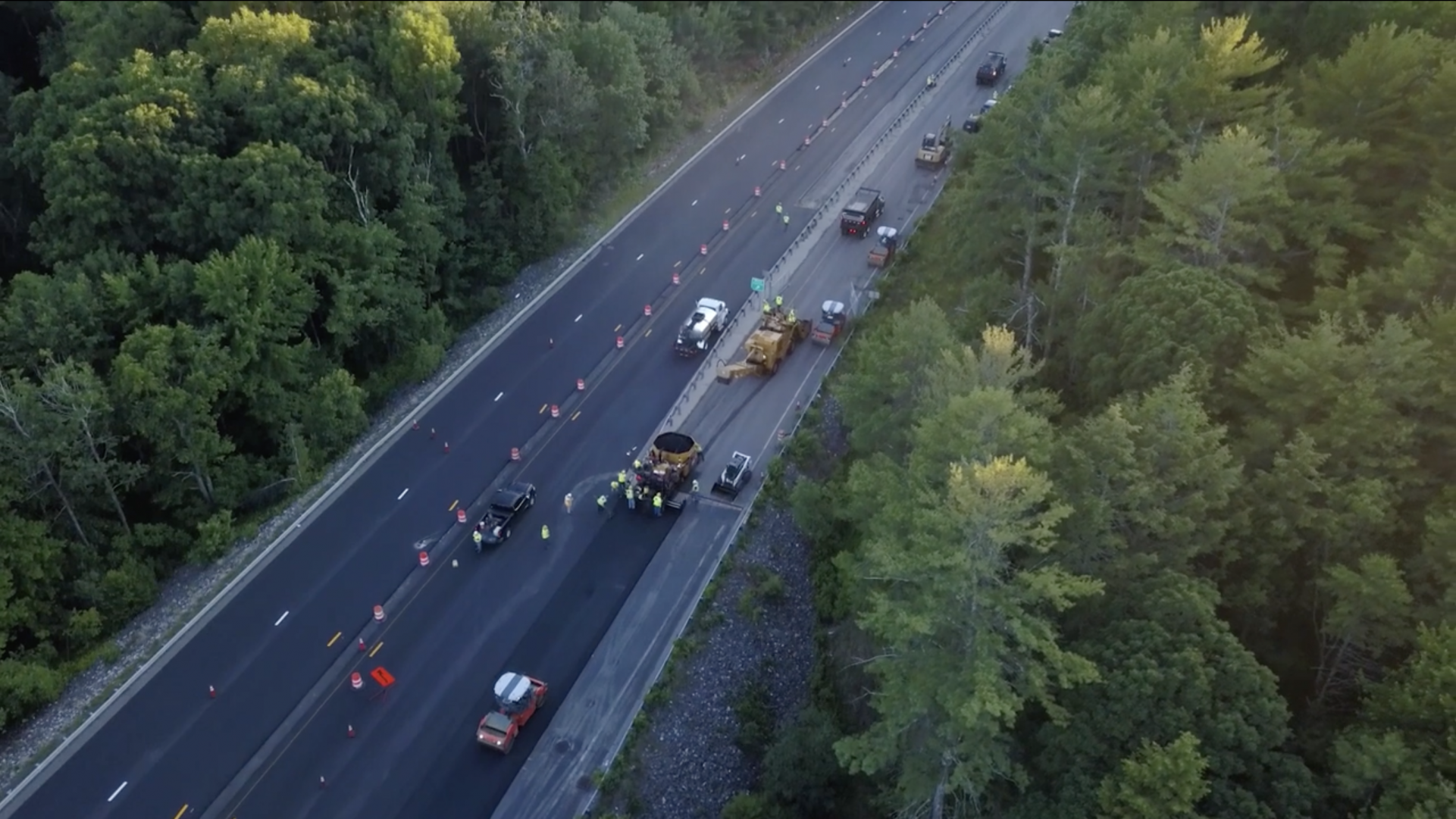 Full 1
Materials delivery was always one of the biggest sources of paperwork for Indiana DOT.
"We have rooms full of this stuff," said Joe Novak, INDOT state construction engineer. "We have to store those in a retrievable manner for 10 years to meet our state record retention requirements."
With paper tickets, INDOT inspectors can face the end-of-shift each day with 50 to 100 tickets to manually add up and enter into the INDOT system. They often must hunt for paper tickets that are inevitably misplaced on busy road construction sites.
But over the last few years, the department has found a way to tame the beast; INDOT has been introducing materials e-Ticketing, the digital exchange, tracking and archiving of information.
Introducing e-Ticketing
INDOT's implementation of the e-Ticketing system has been an evolving and carefully-considered process. The department began monitoring the technology in 2018. In the spring of 2020, when Covid hit, it began allowing any supplier to submit e-tickets via email. This reduced person-to-person contact, an important consideration early in the pandemic. To ensure the e-Ticketing system was accurate, INDOT kept logs of all trucks entering these sites. The pilot programs continued through the 2021 construction season.
Meanwhile, INDOT continued to research available e-Ticketing systems for DOTs. In September 2021, it entered into a four-year contract with HaulHub for the development of a portal which suppliers could use to submit e-Ticketing information. By May 2022, INDOT's system was able to handle e-tickets generated by all of the different software its vendors might use.
INDOT's e-Ticketing system features a portal that suppliers can use to transfer data generated by their own fleet management/e-Ticketing software. Only authorized INDOT personnel can access this supplier information.
"That was a commitment we made to the industry," Novak said. "It's competitive information that they don't want anyone else to have."
Suppliers may still submit materials tickets via email as long as they follow an approved format, but the department eventually wants everyone to use the portal. To add value, INDOT is making inspectors' comments and other information (like asphalt temperature) available to suppliers who use the portal.
INDOT does recognize that not all suppliers are ready to move to e-Ticketing. "We have to be mindful that although the Indiana DOT is a big customer, in some cases we are only a small part of their business," Novak said. "We don't want to do anything, especially in this day and age, to eliminate supply options."
Next steps in e-Ticketing
Stage one of the portal introduction was the replacement of paper tickets with e-tickets. Stage two, which is currently under development, will enable the department to integrate the e-ticket information with INDOT's payment and materials records databases and to create reports based on that data.
The supplier community's reaction to e-Ticketing has been mixed, INDOT officials say.
"I think there's probably an unknown return on investment for them," Novak said. "Some are all in because they have fleet management systems and it is not much effort for them. They also like the extra information they get."
So far, the most successful implementation of e-Ticketing has been with hot-mix asphalt suppliers; INDOT is the predominant customer for its HMA contractors/suppliers.
Some companies are resistant to e-Ticketing because they are accustomed to the status quo. The biggest physical challenge, however, is gaps in cell phone coverage.
"That is something that will obviously get better over time," Novak said. "But some suppliers do business in areas that have almost no cell coverage, so that's why they have no interest in this right now."
Both INDOT and suppliers have some concern about the handling of material deliveries during planned or unplanned system outages.
Novak, however, is confident that INDOT, suppliers and HaulHub will be able to work out issues like these, and that the use of e-Ticketing will continue to expand. Although no date has been determined, INDOT does plan to eventually require the use of the portal for those suppliers using e-tickets.
The agency is looking forward to some of the other benefits as well. When e-Ticketing is fully integrated into INDOT's current systems, for example, it should make payment an efficient process because there will be no more lost tickets.
Increased jobsite safety, however, may be the biggest benefit. Unlike some other states, Indiana has had no safety incidents where inspectors collecting paper tickets were hit by delivery trucks or some other equipment. By removing the exchange of paper tickets, e-Ticketing will help the state maintain that excellent safety record.
The department will also be able to use the collected e-Ticketing data for better asset management. The agency will be able to better correlate material used on any project and compare its performance to other types of materials.
"Data creates opportunities that we've never had before," said Novak. "Or it could be something a little more straightforward, like keeping track of trucks and materials to ensure compliance with the Davis Bacon wage rates for federal money."
DOTs like INDOT have to balance benefits and risks carefully when it comes to adopting technologies like e-Ticketing.
Novak says he thinks INDOT got in at the right time with this emerging technology.
"I think part of the success we've had is that we've had a roadmap that allows us to adopt e-Ticketing in increments, where each increment is adding value. It's not so big that you've got to spend five years before it does anything," he added. "If anyone asks, that's what I would share – don't try to do it all at once."