Rhode Island Day: RIDOT is Making Crosswalks More Visible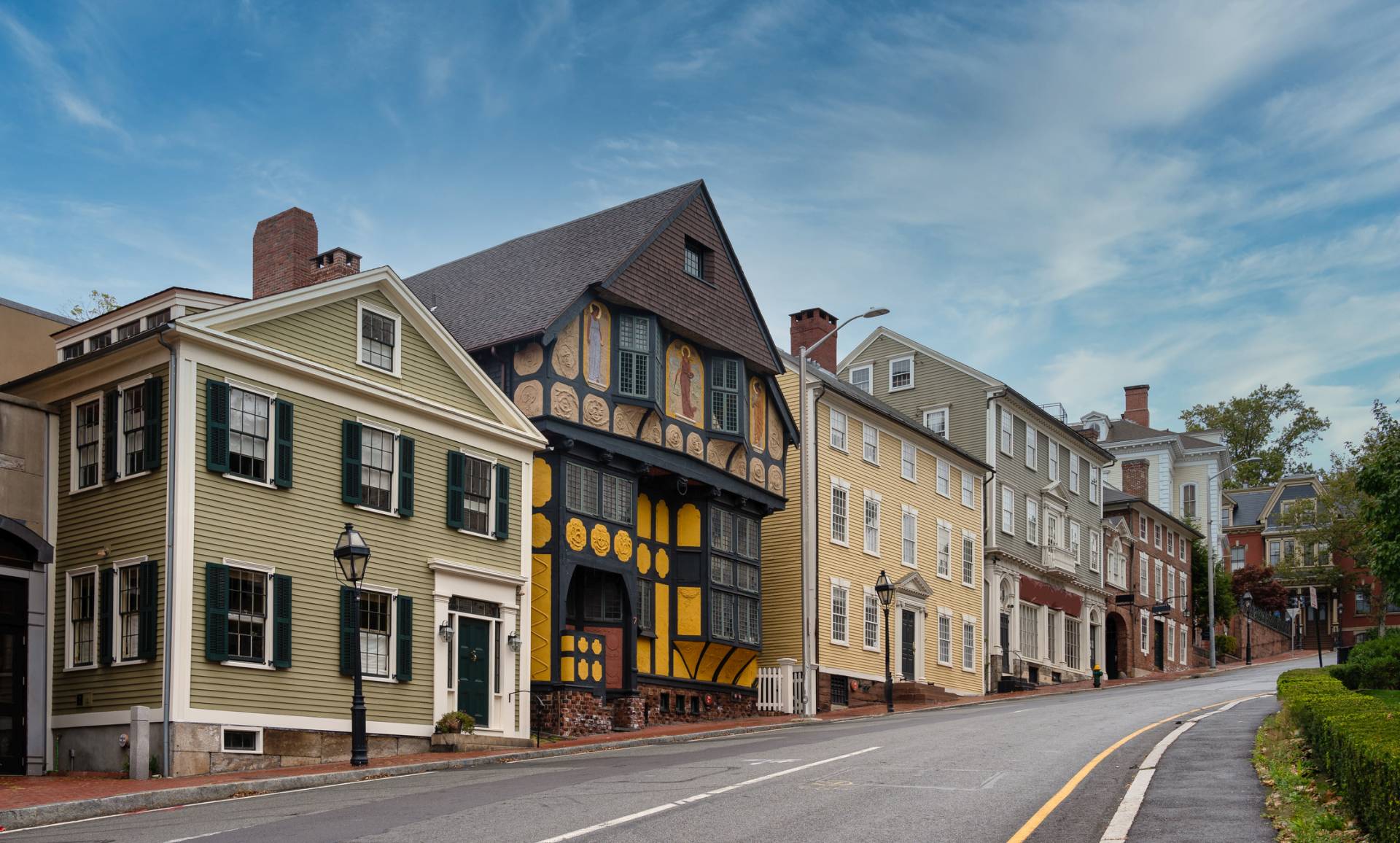 Full 1
In conjunction with the passing of the 2016 RhodeWorks law, The Rhode Island Department of Transportation (RIDOT) created the state's first-ever 10-year transportation plan and implemented innovative liability systems.
Through the support of the Safe Transportation for Every Pedestrian (STEP) initiative and an evaluation app for uncontrolled midblock crossings, RIDOT can now analyze crash types and safety issues at more than 900 state-owned crosswalks.
In addition, by working closely with the Federal Highway Administration (FHWA)'s Highway Construction Workforce Partnership, the state has been able to assist with filling workforce industry gaps. The partnership supports candidates who are interested in transitioning into the highway construction workforce.
Safe Transportation for Every Pedestrian
According to an FHWA case study, in the summer of 2019, the RIDOT inventoried all uncontrolled pedestrian crossings on state-maintained roadways. Totaling over 750 crossings, the inventory added to RIDOT's current hot spot data and supported its new systematic approach to pedestrian safety.
RIDOT created a grading system for risk assessments following the completion of the crossing inventory. Each attribute was given a weight by RIDOT to show how much it contributed to crashes. Scores could be between 0 and 100, with higher numbers suggesting a greater risk of a pedestrian accident. The assessment considered several factors relating to pedestrian crashes including traffic volume, vehicle speed, population density, existing pedestrian facilities, accessibility to public transportation, households without a vehicle, and proximity to commercial establishments.
Influenced by the guide for improving pedestrian safety at uncontrolled crossing locations, RIDOT has prioritized improvements to help keep pedestrians out of harm's way. For example, the agency has started implementing enhanced signage to improve visibility at trail crossings.
Other implemented enhancements include Rectangular Rapid Flashing Beacons (RRFB) and Pedestrian Hybrid Beacons.
Strategic Workforce Development
Highway construction employees are in limited supply across the country. According to a 2018 national survey by the Associated General Contractors of America (AGC), 80 percent of construction firms reported difficulty finding qualified workers.
To help address the shortage, the Federal Highway Administration (FHWA) launched an EDC-6 initiative dedicated to Strategic Workforce Development. The goal for this initiative is to provide resources that show the benefits of choosing a career in transportation.
Furthermore, the FHWA and other significant national highway organizations collaborated with the Federal Employment and Training Administration to create the Highway Construction Workforce Partnership (HCWP). The partnership is dedicated to finding innovative solutions to attracting prospective talent, and has established programs to assist with selecting, training, and employing interested candidates.
When people in Rhode Island indicate interest in one of the partnership's training programs, such as Roads to Your Future, case managers visit with them to discuss potential obstacles to employment and their career objectives. This helps the case managers identify the tools needed to help the applicants succeed.
Rhode Island's HCWP develops a budget centered on assisting people in making the transition into the workforce. They have also created a working group that works with candidates on a variety of issues including health and nutrition, obtaining a driver's license, and language assistance. Once candidates graduate from their training program, the partnership hosts an alumni event to help them build a professional network.
Learn more about RIDOT's current projects by viewing their latest Quarterly Report.
Sources: FHWA, RIDOT