Victoria Sheehan on the Challenges and Opportunities in Mainstreaming New Technology 
The New Hampshire DOT Commissioner and Former AASHTO President takes on State DOTs' "Bad Rap."
By Angie Schmitt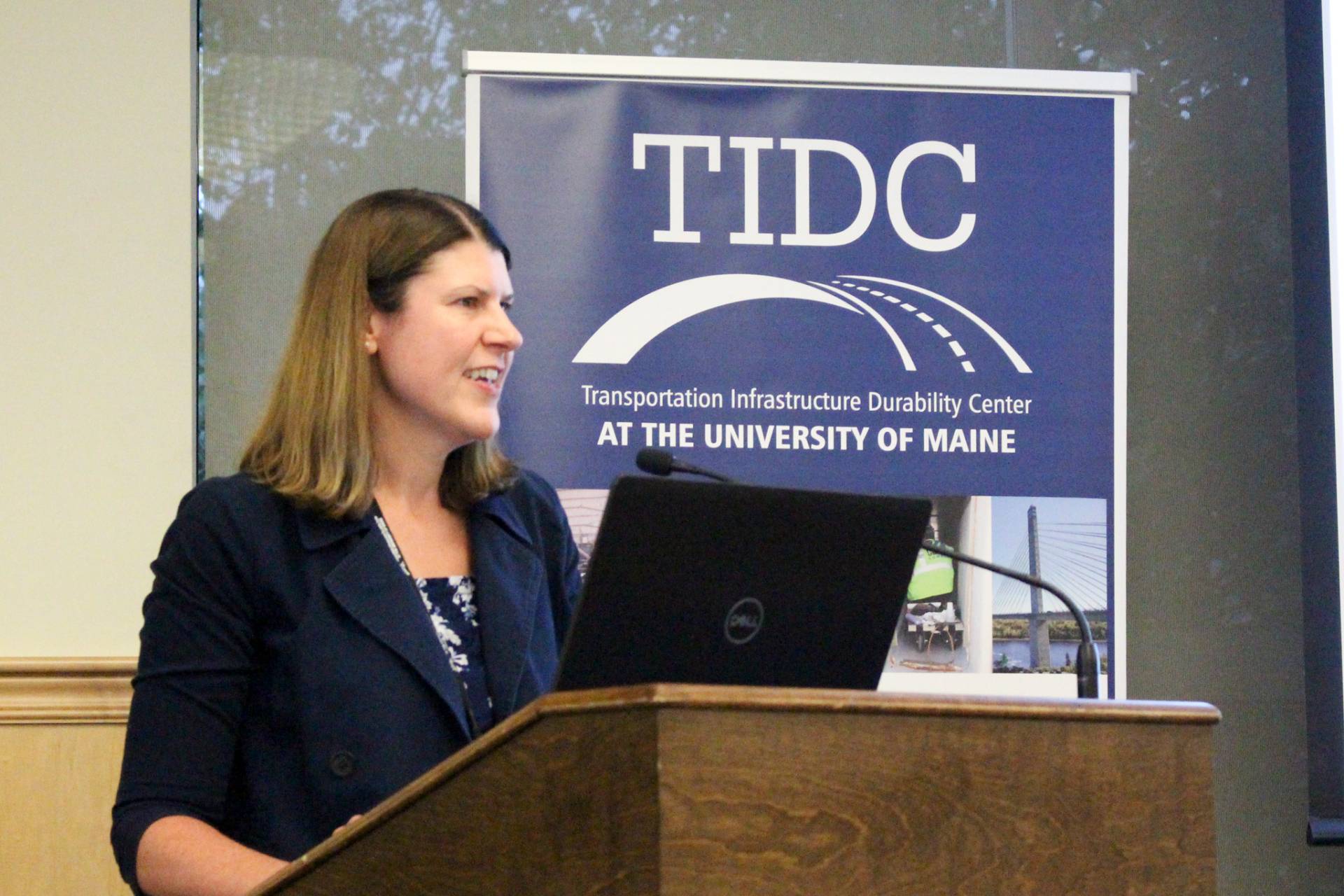 Full 1
Commissioner Victoria Sheehan as Keynote speaker for the TIDC Annual Conference
Why is innovation so hard?
That is one of the questions InfraTalk America Publisher Gregory Nadeau had earlier this month when he sat down with New Hampshire DOT Commissioner Victoria Sheehan.
Sheehan, the former president of the American Association of State Transportation Officials (AASHTO), was in Orono, Maine to give the keynote speech at the University of Maine's Transportation Infrastructure Durability Center's annual conference. Below are some highlights from the interview (lightly edited for length and clarity).
Nadeau: A big focus of your discussion yesterday was these visits you have done to the sites of composite bridge projects in Maine. Return on investment was a big part of the conversation. One of the observations you made was in reaction to a number of very successful examples of composite structures around the country.
Why, given the successful outcome we've seen on so many projects, have we not been able to accelerate the pace at which these techs are adopted or mainstreamed?
Sheehan: I think State DOTs often get a bad rap. We are very quick to embrace new technologies and innovations.
Where we struggle is mainstreaming, and that is what I spoke about last night. There are numerous reasons that make it difficult to change our processes and attitudes and make use of technology part of our everyday business.
We have to change that rate of adoption, because the world we live in is changing at a much more rapid pace than ever before.
We've got EVs coming. We have been working over the years to deploy new technologies: ITS, connected technologies… There's a lot of disruptors on the horizon.
At the same time, we have our core infrastructure we still need to maintain and operate; and, there are just as many opportunities to leverage technology in preserving that existing infrastructure.
I think that's why states have been challenged. There's so much coming at us at the moment. We're trying to staff up and pivot, so we have the resources to work in this much more dynamic environment.
At times we are risk averse. Especially, when it comes to changing something that from our perspective wasn't broken. We've been using concrete, steel, and asphalt. The same materials that have been in the construction of our transportation infrastructure for quite some time. Too much change at one time is a lot to navigate.
There are countless examples of state DOTs and other owners who are leveraging these new materials. This infrastructure has been in place for 10, 20, even 30 years in some places.
Deviating from the tried and true makes us nervous when making infrastructure changes that need to last 50 years.
Even if we believe in what we're being sold, there's just not that same in-service experience to be able to guarantee that the material is going to deliver in the way industry innovators and researchers might present.
It's overcoming, now that we have some data, that hesitation to use newer materials and newer approaches. We're at that tipping point where we can now mainstream.
A full interview with Commissioner Sheehan will be released as part of our upcoming podcast series this fall. Stay tuned!