Due to its use of lightweight composite girders, the Grist Mill bridge is expected to last for 100 years.
By Angie Schmitt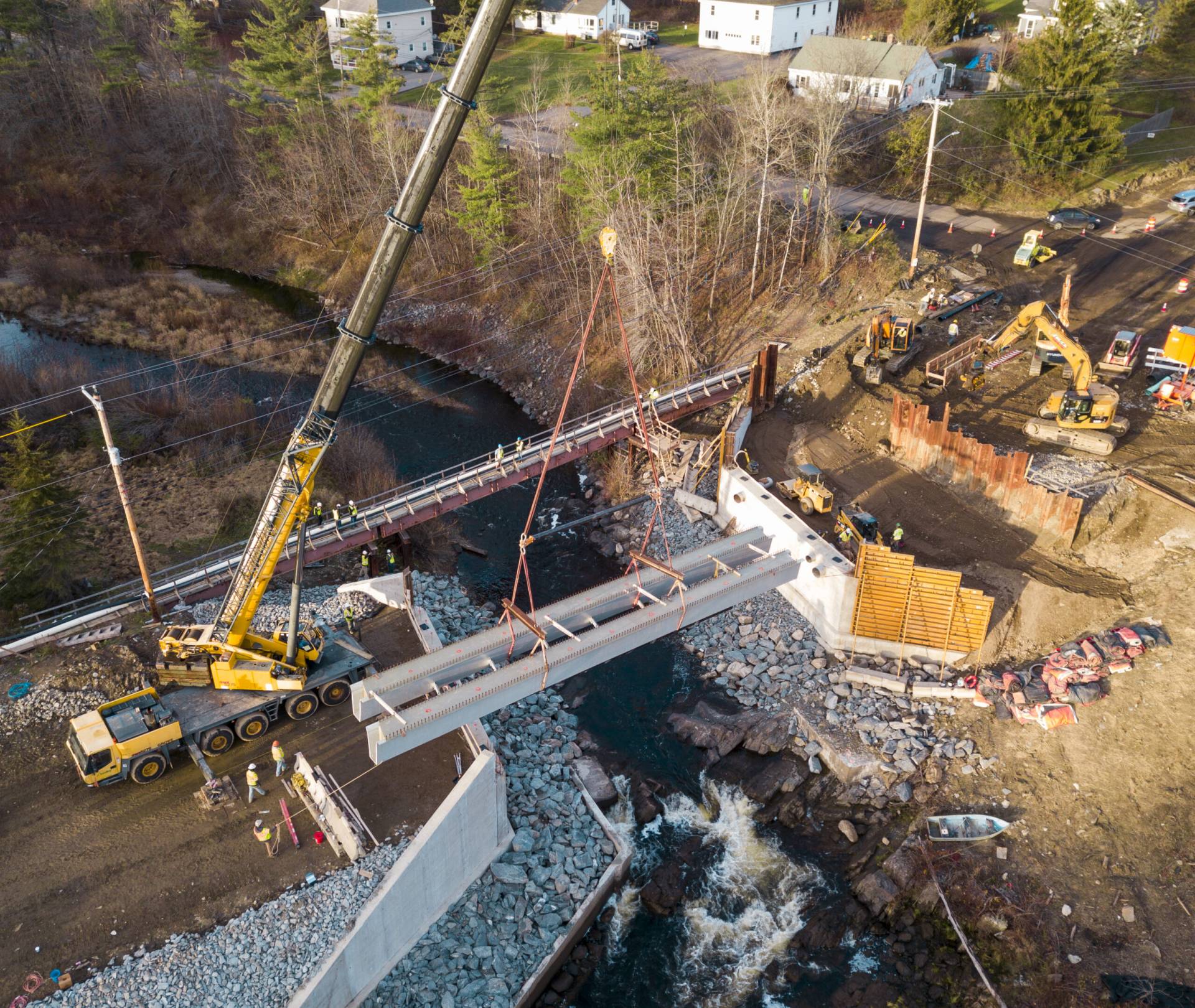 Full 1

It looks and functions just like a normal bridge, but the Grist Mill Bridge in Hamden, Maine, represents an important leap forward in bridge construction; and, it is garnering national recognition.
The project was awarded Best Use of Technology and Innovation, Small Category in 2022. The project was selected among a list of other contenders in the "small project" category for the northeast region. The project is now in the running for a national America's Transportation Award, announced at the American Association of State Highway and Transportation Officials (AASHTO) Annual Meeting in October. Sponsored by AASHTO, AAA, and the U.S. Chamber of Commerce, the competition "serves as a way to recognize state DOTs and highlights the projects they deliver that make communities a better place to live, work, and play."
The project's use of lightweight, corrosion-proof girders, engineered and manufactured by AIT Composites, are made from a sustainable mix of composite materials. Traditionally bridges have used a much heavier and more carbon intensive steel or a mix of steel and concrete for the bridge superstructure.
In her remarks about the project, AASHTO's Caroline Kieltyka said:
"Located in the town of Hamden, Maine, the Grist Mill Bridge had been kept open for more than 90 years through decades of rehabilitation projects.
When the time came to replace the deteriorating structure, the Maine DOT collaborated with the University of Maine, the Army Corp of Engineers and its contractors to design and build a first-of-its kind superstructure using cutting edge composite girder technology. The new bridge's corrosion-resistant girders will significantly reduce annual maintenance costs and extend the bridge's lifespan to at least 100 years."
The Grist Mill Bridge project was the subject of a short documentary by Infrastructure Ventures.
"It feels good to make some history," Joyce Noel Taylor, P.E., Maine DOT's Chief Engineer, said at the time.
According to project leaders, the girders' featherweight, compared to steel or concrete, reduces the environmental burden of shipping, hazards, and the difficulty of the construction process.
"The goal was to learn from what we've done over many decades with composites and come up with the next big thing," Dr. Habib Dagher, P.E., of the University of Maine's Advanced Structures and Composites Center told Infrastructure Ventures. "The whole design effort was, 'How do I make it lighter? How do I make it easier to ship? How do I make it faster to erect?' And the fact that it lasts longer; Instead of building two bridges, you're building one bridge."
For more information about this innovative project check out this extended video tour of the finished bridge, including comments from Senator Susan Collins.